Welcome to Ilchester Dental Care



At Ilchester Dental Care, private dentist in Ilchester we are committed to being an approachable and friendly practice whilst at the same time providing the highest standards of dentistry using the most up-to-date technology and knowledge.
We have a particular passion for creating beautiful smiles in a comfortable and relaxed atmosphere. Our team is proud to offer patients some of the finest dental services in the Somerset, Dorset and Devon area.
We are happy to spend time with patients discussing all concerns about treatment, helping to put them at ease. We understand that visiting the dentist can be quite traumatic for many people and we pride ourselves in having succeeded with many dental phobics.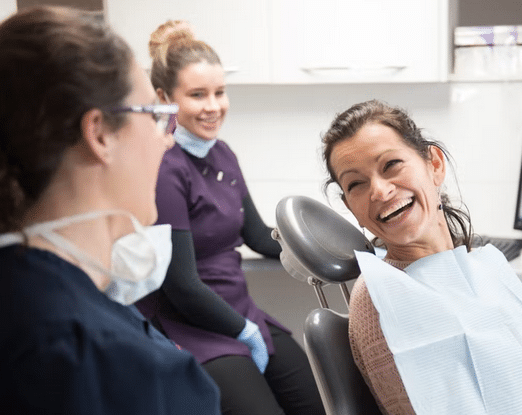 5 Star Dentist in Ilchester
I'm a nervous patient when it comes to dental care. All staff at Ilchester dental care are very kind and welcoming. In the waiting room is a tv playing gentle meditation sounds and comfy sofas. There is even a relaxing massage chair if you care to use it. Zarina was very understanding of my anxiety and went out of her way to reassure me, taking her time and keeping me as comfortable and relaxed as she could. I don't think I've met a more compassionate dentist.
Anamaria Bunescu
2023-06-30
Fantastic service!
Just got back from my first trip to Ilchester Dental Care. Unfortunately for me, it was an emergency appointment with a tooth that really needed removing. Saw Amit and he genuinely couldn't have been better. We had a laugh and joke and the whole thing was 100% painless, I couldn't even feel any pressure. Will be going here now as my dentist!
The service is excellent. I've always been petrified of the dentist due to a bad experience years ago. They have restored my faith in dentists. All staff are extremely kind and helpful. Strongly recommended Ilchester Dental Care. Thanks for everything you lovely people .
Caroline Edwards
2023-06-14
Visited for the first time today. I have a phobia of dentists. Waiting area was inviting, relaxing and spotlessly clean. Everyone made me feel so welcome from the receptionist, dentist and hygienist and others. Zarina and her colleague were ace during my check up; made me feel at ease even though it was obvious I was really anxious. Later same day had hygienist appointment with Gemma and her colleague. Again made me feel at ease and provided reassurance all the way through. After my visit, I felt so proud that I visited even with my phobia. This was only possible with how the staff treated me. Thank you. Would thoroughly recommend.
Peter Moulding
2023-03-20
I would highly recommend this relatively new dental practice. Without doubt the best hygiene and dental treatment that I have ever received; now in my 83rd year. Plentiful adjacent and free car parking. Only problem for the less mobile is stairs access to second floor.
Emergency consultation for damaged tooth well taken. Temporary filling inserted without fuss. Effective action received in good time. Pricing is a concern. Staff are welcoming.
I had my first dental appointment today, as I am quite nervous, my dentist made me feel very calm and explained everything what he was doing. On arrival the receptionist made me very welcome and relaxed. I would highly recommend this practice. Thank you
Amanda Wharton
2022-11-02
Cannot fault the practice. Fabulous new environment, reception area pleasant to sit in. The dental room is clean and modern. Mr Jackson my Dentist was excellent, very calming and efficient.
Friendly, polite and professional service.

Book An Appointment Today
Call us on 01935 840784 or fill out the form below and a member of our team will be in touch.
Get in touch with us for any queries you may have or to register as a patient. Just call our reception team or pop in to see us (or use the contact form below to send us a message and a team member will touch base with you).
Ilchester Dental Care
17 Church Street
Ilchester
BA22 8LN

Tel: 01935 840784
Email: office@ilchesterdental.co.uk